Kaspersky Proven Leader.
Our award-winning technology gives you the power to protect what matters most to you Online.
Kaspersky Lab is #1 in 60 comparative test
No other security company even comes close
In 94 comparative tests and reviews last year, Kaspersky products earned 60 first-place finishes and 77 top-three finishes.
Trust the experts' pick for online protection

"We would describe the layout of Kaspersky Internet Security's window as excellent. All important information and functions are displayed clearly and easy to access."

"Great performance, speed, and an experience appropriate for both mouse and touchscreen make Kaspersky Internet Security a top pick."

"Kaspersky continues to outperform its competitors."

"It's a new Editors' Choice for antivirus protection."

"Kaspersky Lab continues its Magic Quadrant rise. Gartner named it a 'Leader" in endpoint protection for the fourth consecutive year."

"Its exceptional all-around protection, extremely user-friendly interface, and small footprint make Kaspersky perfect for novices and advanced users alike."
Reviews
Arguably the most important Internet security company in the world.

A solid product – just what we would expect from these venerable pros.

Kaspersky Lab has repeatedly impressed skeptics by exposing genuine and serious cyber-security problems.

Anti-virus powerhouse Kaspersky Lab [is] responsible for some of the best research into malware and the cyber criminals who create it.

The independent labs praise its antivirus protection to the skies...
OUR AWARD-WINNING SECURITY PRODUCTS
Gives you online security & guards your privacy – on PC, Mac & Mobile

Always-on security
for always-on businesses
Kaspersky Security Scan for your PC for free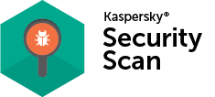 This free, easy-to-use scanner finds malware that may be hidden on your PC - even if you already have an antivirus product installed. Get a detailed security status report - plus tips on improving PC protection.