Among those who think they are most likely to lose their job because of the lack of digital skills within the next 5 years are department heads and top managers. They remain most wary about the need for constant self-education and staying ahead of the trends.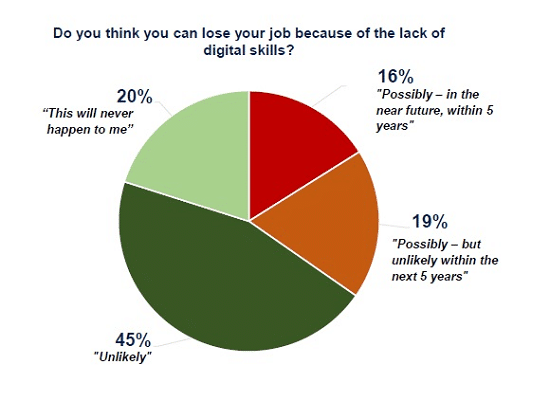 The lack of digital skills may not only impede a person's career, but also produces serious risks for the cybersecurity of the organisation where this person is employed. The 'human firewall' is one of the key defenses from cyber incidents. Recent research showed that 95% of cybersecurity threats are in some way caused by human error². Employees can open a phishing link or download ransomware on a corporate device and it'll produce financial and reputation losses for the company. This is why workers on any level — from top managers to interns — should receive proper cybersecurity training.
"Many are afraid of losing their job due to the explosive advancement of AI/ML solutions. While some individuals and organisations are wary of automatisation and refrain from using it, others adapt their processes to get the most benefits from the newest technologies. Employees should be cyber savvy if they want to remain in demand, and companies should help them to tackle digital challenges and develop cybersecurity skills," comments Andrew Voges, General Manager for the African region at Kaspersky. "Kaspersky offers the Automated Security Awareness Platform to contribute to the education and upskilling of employees at all levels. The Platform is an online tool that builds strong, practical cyber-hygiene skills for employees throughout the year. Launching and managing the Platform doesn't require special resources or arrangements, and it provides the organisation with built-in help at every step of the journey towards a safe corporate cyber-environment."
To help your employees to improve their digital skills, Kaspersky experts recommend:
Conduct regular checkups to understand what digital skills are most needed for business and educate employees.
Organise digital literacy courses and trainings for employees so they could improve their skills. Use Kaspersky Automated Security Awareness Platform — an online learning tool that would help to train employees about relevant topics in cybersecurity;
M,ake sure employees know about trending cyberthreats like phishing, scam, ransomware attacks and how to recognise and avoid them.
References:
¹2,000 employees across SMBs & enterprises were surveyed in the Middle East, Turkiye, Africa region in August 2023
35% of employees in South Africa are afraid of losing job due to lack of digital skills
Kaspersky
According to a new Kaspersky survey¹, 51% of employees surveyed in South Africa feel the need for better digital skills in their work with computers and other digital equipment. Over a third (35%) are afraid of losing their jobs because of the lack of IT competencies. Some believe it could happen as soon as in the next 5 years (16%), others suppose it might happen at some point later (19%). Only 20% are sure they are not at risk of losing their job because of poor IT knowledge.