The Metaverse is a virtual, interconnected universe that merges physical and digital realities. In it people can interact, socialise, work and engage in other activities through immersive technologies like virtual reality and augmented reality. The Metaverse is often envisioned as the next-generation Internet, blurring the boundaries between the online and offline worlds and offering limitless possibilities for social, economic, and entertainment experiences.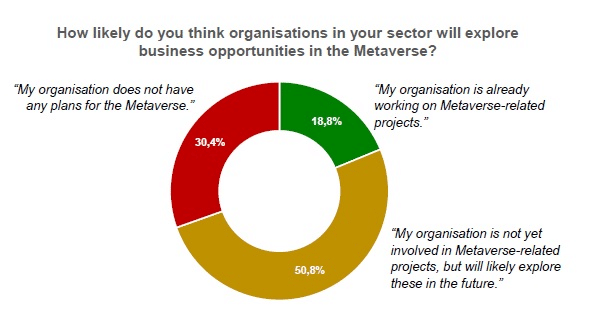 Kaspersky experts warn that new phenomena like the Metaverse bring cyber risks. VR headsets can be attacked to manipulate content, virtual assets earned in the Metaverse can be stolen and whole virtual economies compromised. There are new privacy concerns as well: extensive data about users' actions, preferences, and behaviours is collected, which could be exploited for identity theft or surveillance. Protecting individuals' privacy in such a vast and interconnected digital space is a significant challenge. As the Metaverse continues to evolve, cybersecurity strategies will need to adapt to address emerging threats and vulnerabilities.
"When we discuss linking the Metaverse and real-world objects and devices, technically we talk about the rising importance and new roles of IoT in the metaworld. Hence the attractiveness of the 'Internet-of-Everything' for global cybercrime increases as well," comments Victor Ivanovsky, KasperskyOS Business Development Lead. "This is why IoT vendors should consider implementing a next generation cybersecurity approach on their devices. Kaspersky pioneers the Cyber Immune approach, where devices are able to be designed and developed with innate, built-in protection that would make them virtually impossible to compromise. For instance, Kaspersky IoT Secure Gateway is designed to serve as a secure gateway for the Internet of Things in Industrial IoT networks, Smart Cities and other modern use cases on the boundaries of the Metaverse."
To keep your company protected from cyber threats in traditional and virtual environments, Kaspersky experts recommend:
Organisations should conduct regular cyber skill checkups among employees and offer competent training. Kaspersky Security Awareness portfolio offers flexible ways to train staff, is easily customisable and scalable to meet the needs of any company size.
Corporate users should be educated on potential privacy risks when working in virtual environments. Organisations should implement best practices in safeguarding personal and corporate data.
Install updates for the firmware used on digital devices (including virtual headsets) as soon as they become available.
Use Cyber Immune solutions for IoT protection on corporate networks. Use a dedicated IoT gateway that ensures inbuilt security and reliability of data transferring.
Use Kaspersky Threat Intelligence to block network connections originating from malicious network addresses detected by security researchers.
Reference:
*2,000 employees across SMBs & enterprises were surveyed in the Middle East, Turkey, Africa region in August 2023.
61,3% of employees in South Africa believe the Metaverse will revolutionise industries
Kaspersky
According to Kaspersky research*, the majority (61,3%) of employees surveyed in South Africa believe that the Metaverse is the future of Internet and will revolutionise entire industries. Only few were skeptical of the Metaverse and thought that it is a trend that will pass (21,5%). Many employees said their companies already have projects related to the Metaverse (18,8%) or have specific plans for such projects (50,8%). However, traversing to the Metaverse comes with new cybersecurity challenges.