Internet banking security to keep fraudsters away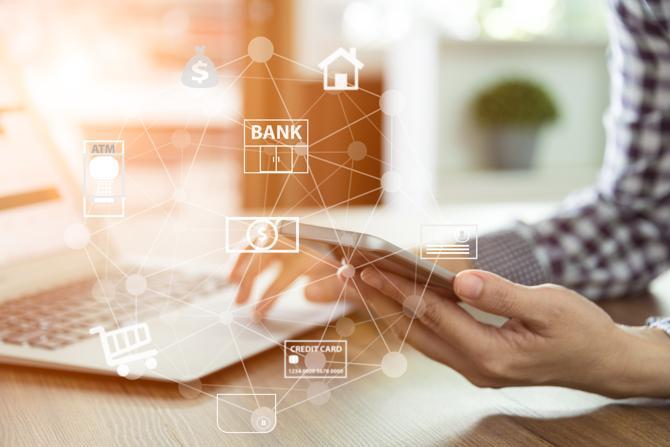 Internet banking security is a constant concern. To ensure peace of mind for their clients, all banks implement numerous measures to ensure security in online banking. They must take these preventative steps to protect all sensitive customer data because there is simply too much at stake for everyone involved. Any hacks or leaks could be extremely damaging to a bank and its reputation, but for customers, it could mean significant financial and social impacts. With this in mind, it becomes clear that the onus is on both banks and their customers to safeguard their online bank security.
What is internet banking?
Internet banking essentially enables customers to manage their money through electronic means, negating the need to physically walk into a bank branch. Through secure portals on a bank's website or app, customers can execute a wide range of financial transactions online. For example, some of the standard features of online banking include local and international funds transfers, bill payments, and cheque depositions.
Despite some concerns about internet banking security, most people rely heavily on the convenience and ease of electronic banking. But, as with most things to do with the internet, there are numerous advantages and disadvantages.
The advantages of online banking
With the increasing digitization of society, it was only a matter of time before banking went—almost completely—online. Despite the many inherent risks, digital banking offers many advantages for personal and corporate customers. As long as users are aware of how to protect their bank account from hackers, internet banking can be incredibly useful. These are just a few reasons why online banking is so popular:
24/7 access to accounts: For customers, being able to manage their money whenever and however they want through their smartphone or computer is very convenient. Rather than having to physically go into a bank branch, a bank's app or website means that it is possible to access their accounts and execute a number of functions immediately from wherever they happen to be. This is also useful for keeping an eye on account balances and transactions for security—it is easy to identify fraudulent or suspicious activity.
Simple bill payments: Online banking enables customers to pay all manner of bills quickly and easily—for regular payments, such as rent or electricity bills, it is even possible to set up automatic payments.
Easy fund transfers: Digital banking users can execute fund transfers as and when they need to, easily moving money between their own accounts or sending funds to third-party local or overseas accounts.
Immediate access to bank records: Internet banking portals offer full visibility of accounts, which includes quick access to old statements and transactions, which is useful for record-keeping, especially for tax purposes.
Better budgeting: Most online banking apps and portals allow users to see how they spend their money, or sync with programs or apps that do this, giving them better visibility and control of their spending and budgets.
Better rates: Sometimes, customers can access preferential rates for transfers and currency exchanges by making their transactions through internet banking portals rather than in a bank branch.
Lower fees: Because there are fewer overheads in digital banking, fees are often less than if customers executed the same transactions through traditional means.
More features: Through internet banking, many banks can offer a wider variety of services that might be slower through traditional means, such as savings tools, financial advice, check deposits, peer-to-peer payments, and even customer service.
Accurate money management: The automation inherent in digital banking means that there is far less chance for mistakes—human error is still a liability in traditional banking.
Some disadvantages of digital banking
Despite its prevalence today, electronic banking does have some drawbacks. Security in banking has always been a concern, and the digitization of the industry has only placed more emphasis on this. Here are a few potential pitfalls of online banking to bear in mind:
It could be tricky to navigate for those who are not particularly tech-savvy.
Online banking may not be able to handle large or complex transactions.
Because of their security protocols, banks often place limits on what customers can do through their digital banking portal—such as placing daily transfer limits—which can require a lot of effort to change or remove.
Because online banking relies on a reliable internet connection, any connectivity issues could cause problems with the portal's functionality.
Banking portals frequently undergo maintenance to keep them up to date and secure, which means there could be service outages.
Despite high-level security measures, internet banking is still vulnerable to cybercrimes.
Are online banks safe?
Generally, online bank security is very high. This is because banks put a lot of consideration into how to secure your bank account from hackers and implement numerous security measures. For example, most internet banking portals and apps now have a variety of standard security features such as timed logouts, the deactivation of login details after several incorrect attempts, multifactor authentication, and encryption. To protect customers and their finances, here are just a few of the steps financial institutions take to ensure security in banking:
Protecting data with 128-bit or 256-bit encryption
Encrypting all digital communications, including emails and online customer service
Automatic logouts after a period of inactivity
Two-factor, multifactor, or biometric authentication
Security alerts—sending SMS messages or emails for each transaction.
One-time passwords to validate transactions.
Training employees in privacy policies and protecting customer data.
Monitoring for suspicious activity for fraud prevention
Using Cyber Threat Intelligence (CTI) to identify potential cyber threats and actively address these.
What are the risks of online banking?
Although banks implement a variety of processes to ensure online bank security, these are not always foolproof. Cybercriminals are employing ever more sophisticated means to execute all types of cybercrimes. As such, phishing, credit card fraud, and identity theft are ongoing concerns across the industry. While digital banking offers many advantages, including a high level of convenience and control, it is essential that users are alert to the risks of logging into their online accounts. Here are a few things to watch out for:
Phishing attacks: These are often perpetrated by scam emails that appear to be legitimate bank emails and lure the recipient into sharing personal information such as login credentials or bank account details, either by replying to the email or clicking a link to a fraudulent website where the user enters this information.
Malware: Some financial scams begin with the attacker managing to install malware or viruses into the victim's device—this then steals the necessary personal information and relays it to the attacker; sometimes, the malware is coded into unsecured banking apps.
Technology fails: Because digital banking relies entirely on technology working perfectly, any problems—such as power outages, malicious attacks, or breaches—could mean that customers lose access to their accounts, at least temporarily.
Financial theft: Despite its convenience, online banking leaves users' accounts vulnerable to attacks that could see their money stolen. This is why it is essential to constantly monitor accounts for suspicious activity.
Identity theft: Even if hackers do not manage to breach an online banking account, they may be able to steal the information they need to steal an individual's identity and use this to hack into other accounts or set up other types of financial fraud.
How to protect your bank account from fraudsters
Although banks take internet banking security seriously, customers must also take steps to ensure their online bank security. For all online money transactions, use the appropriate security software to open the site you frequent in a protected mode that assists in keeping your personal data safe. Of course, there is always more that can be done to ensure internet banking security. Here are a few expert online banking security tips:
Always be wary of bank emails that request personal information or direct you to a website—banks will never request sensitive data.
Avoid clicking email links purporting to direct you to a bank's website—instead, type the web address directly into the browser and ensure that you are on the bank's legitimate, secured site.
Watch for any unexpected activity during an online banking session, such as unusual pop-up windows—disable these immediately.
User antivirus software for additional security in banking, and keep this up to date.
Protect your online banking sessions by using a virtual private network (VPN)
Enable multifactor or biometric authentication if the bank offers this.
If available, use one-time passwords to validate transfers, payments, and changes.
Subscribe to banking notifications where possible to be alerted of all transactions, password edits, account changes, and failed login attempts.
If possible, use a password manager to generate strong banking passwords
Never use public Wi-Fi for online banking—only use secure, private networks
Only use a bank's official website and apps
Enable password protection on all devices.
Always log out of banking sessions, and activate timed logouts if this is not done automatically.
Never volunteer sensitive information—banks will never ask for personal data such as social security numbers or PINs.
Regularly monitor account statements for suspicious activity such as unauthorized charges or transfers, and report these to the bank immediately.
Report lost or stolen cards to the bank immediately.
Ensure all software on devices is up to date.
Go paperless—receiving paper statements by mail gives potential attackers the opportunity to steal personal information.
Secure your finances with internet banking security
As banking becomes increasingly digitized, so too do people's—rightful—concerns about internet banking security. Banks operate complex, high-level security protocols to ensure the integrity of their systems and assure their customers that their accounts and money are protected. This includes, for example, protecting data and communications with encryption, and using multifactor authentication, security alerts, and automatic logouts as standard features to ensure online bank security. However, online banking users must also be aware of the inherent risks and put their own safety measures in place. This includes enabling all security features on their banking apps or websites, only accessing their accounts on secure wifi connections, and being wary of unexpected emails or phone calls purporting to be from their bank.
Get Kaspersky Premium + 1 YEAR FREE Kaspersky Safe Kids. Kaspersky Premium received five AV-TEST awards for best protection, best performance, fastest VPN, approved parental control for Windows and best rating for parental control Android.
Related Articles and Links:
How safe are money e-transfers?
Related Products and Services:
Kaspersky VPN Secure Connection
Internet banking security to keep fraudsters away
Kaspersky
Learn what measures banks take to ensure internet banking security and pick up some online banking security tips to protect your account.