Internet Safety: 20 Tips for TikTok Security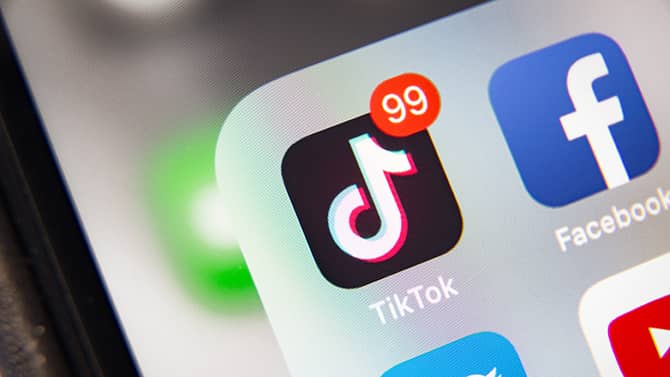 Since the COVID-19 pandemic has taken hold, more and more people are spending an increased amount of time online. With forced isolation, more people have been turning to social media to keep up with friends, connect with people, and foster a sense of community. There's no doubt about it: as social media usage has grown, TikTok has become one of the most popular apps and social media platforms out there today.
TikTok is a platform on which users share short videos—and can even respond to other users' videos directly with their own videos. TikTok has particularly caught on with Gen Z—but its popularity is growing, and its audience is becoming more varied. Research shows that TikTok has nearly tripled since 2018, and experts at App Annie expect the app to have at least 1.2 billion users by the end of this year.
As Tik Tok has skyrocketed, so has discussion (and concerns) about the safety of the app. TikTok is an app developed in China (now with shared ownership between the U.S. and Chinese owners), and in 2020, fears arose that potential malicious actors in China were using the app as spyware, gathering information about U.S. users or other users across the globe.
TikTok Security: 10 Tips for Adult Users and 10 Tips for Parents and Kids
While most of those fears have been debunked (experts at Business Insider call TikTok "relatively safe"), and TikTok is still an app that is as popular as ever, people should consider security when they use the app—and they should also speak to their children about how to use the app safely. Security risks still abound when using TikTok, just as they do when an individual accesses any messaging or content sharing app on a mobile device.
If you use TikTok regularly or you have kids that love to use TikTok, read on. Here are 10 security tips for you as an adult user and 10 security tips for your kids, so you can ensure that everyone stays safe while they use the app.
TikTok Security Tips for Adult Users
Make your account private: All TikTok users have the option to make their account private. This means that the content you post on the account is only visible to people who you connect with—intentionally—on the app. By making your account private, you can ensure that none of your TikTok videos are seen by people you don't know.
Only allow friends to send messages: Don't accept messages from strangers on TikTok. If you do receive a message from a stranger from TikTok, the stranger may simply want to connect—or they may be phishing for information. If you only accept messages from friends on the app, you can ensure that everyone who sends you a message has good intentions, and you won't need to worry about who you respond to or don't respond to.
Don't suggest your account to others: In TikTok's privacy features, you can choose whether you want your account to be suggested to others. You can also choose to limit your account so it's only searchable for people you're already connected with. To do this, just turn off "Suggest Your Account to Others." This will keep your TikTok account from being featured by TikTok, attracting random users you don't know. It will also stop your TikTok account from coming up in search engine results.
Use mobile antivirus: Multiple times, TikTok released new software that had severe security vulnerabilities in it. While they eventually patched these holes, there was some time when the app could be used by bad actors to access your devices, accounts, information, and more. Make sure you have mobile antivirus security that is regularly working to scan your devices and detect if any malware, spyware, viruses, etc can be detected on your phone. By using mobile antivirus software (in addition to the antivirus software you use on your PC), you can make sure you catch any threats quickly before they do any real damage to any of your digital devices.
Take Advantage of the Digital Wellbeing feature: Built into the TikTok app is a "digital wellbeing" setting. This will help you manage your screen time, so you don't spend too much time on the app. Not only is spending too much time on screens bad for your brains and eyes, but the longer that you spend on the app, the more tired and less diligent you can become, and the less aware you are, the more vulnerable you are to online threats.
Use a strong password: Use a strong password for your TikTok account. Make sure it's not a password you use for any other account. This will ensure that if your TikTok account password gets stolen, no other accounts are compromised. You can use a password keeper to help you remember your complex, longer passwords.
Don't let people download your videos: There's a feature in the TikTok app that lets other users download the videos you share on your channel. Turn on this feature so you don't have to worry about who downloads and saves your videos. This gives you some control over how people will use the content you create and share online and ensures no one uses your content, image, or identity in a way you wouldn't want it to be used.
Limit comments: Cyberbullying is a huge issue these days, and it can affect anyone—whether you're a child in school or someone sharing your content online. If you disable comments on your video, you can ensure that no one takes the opportunity to use your platform to say unkind and disparaging things to you or anyone else.
Use Login with Two Factor Authentication: Enable verification in your TikTok account login process by adding your phone number. Then, TikTok will create a one-time-use password every time you login. Using a two-step process to login to TikTok (and any app, for that matter), minimizes the risk that someone else can hack into your account.
Stay away from links: Sometimes, cybercriminals might share a link with you in a message that looks to be a TikTok app but isn't actually TikTok. This can lead to you downloading a trojan version of the app or harmful spyware onto your computer. Never click a sketchy link from a stranger, and when you think you're actually getting a link from a friend that is a TikTok link or a link from TikTok itself, triple-check to make sure that it is actually a real TikTok link and not an imposter.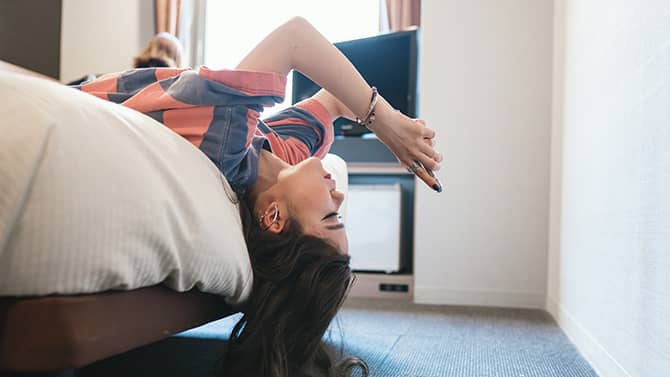 TikTok Security Tips for Families with Kids
Make sure your child's account is private: On the discoverability page of your child's TikTok account, make sure you set the page to private. This ensures that anyone who doesn't know your kid won't be able to see their content. You can keep people with bad intentions away from your child by simply setting their TikTok account to private.
Set time limits for your kid's TikTok usage: The "Digital Wellbeing" feature can also be a great tool to help you keep your child safe on TikTok. Limit the time they can use their account by harnessing the Digital Wellbeing tool. Simply go to Digital Wellbeing, then screen time management. You can set two hours maximum on the app per day, so it won't work once they have used it for up to two hours.
Use restricted mode: Set your child's TikTok app to restricted mode. This filter blocks mature content, so your child won't accidentally stumble upon something that is too graphically violent or sexual for them to consume. Lock this setting with your own passcode so your child can't go in and change it.
Set up family pairing: With family pairing, all of your family's accounts are linked. This gives you the ability to totally control their settings as well as manage their usage of the app. With family pairing, you can see who your kids are connected with and communicating with on the app. You can also manage and see the content they're viewing to make sure they're only viewing stuff that is appropriate for them.
Explore the app together: Spend time on TikTok together. If you're concerned about security and privacy issues, you can make the app one that your family uses as a group or in pairs—not alone. By using TikTok together, you can help your child learn how to use apps safely, and you can also make certain that no one is trying to threaten or harm your kid while they are using the Internet or their mobile device.
Teach your child how to report users: Teach your child how to report a user who does something inappropriate or considered "bullying" on TikTok. Teach them how to click "Report a Problem," which lets TikTok know about the issue. By reporting a problem, your child can let the appropriate authorities know that they should take action against a dangerous user. Also, tell your child to let you know if this happens, so you can be sure they are safe or explain anything threatening or scary to them.
Talk about what is safe to share on TikTok: Before your child starts using TikTok, talk to them about what is appropriate to share on the app. Remind them to never give out identifying or private information like their full name, address, or date of birth. Also, remind them to keep their content appropriate. You can remind them that content posted on the Internet can live forever—even if they delete. So you want to ensure that they never post anything they regret sharing with a digital community.
Speak with them about the dangers of connecting with strangers on the Internet: Teach your kids to only connect with friends on TikTok. Remind them that it is easy for someone to be dishonest over the Internet. Even though a person may appear one way in videos and pictures, that doesn't mean it's actually them in real life. Dissuade them from communicating or connecting with any strangers on the app. This minimizes the risk of them connecting with someone who is out to harm children.
Warn them about connecting with people from TikTok on other platforms: If your child has made a "friend" or found another user they connect with on TikTok, encourage them to keep the connection on that app. You don't want your child to move their communication to another app that is more private that you cannot monitor. You also don't want your child making plans to meet a stranger in real life, since it's impossible to know who that person might really be. If your child has found a TikTok content creator they really like, encourage them to keep watching the videos on the platform—and even watch the videos together. But stay safe by limiting the relationship to that one specific channel.
Make yourself an ally: At the end of the day, there are many, many security risks that your child can encounter using TikTok, or any other app that they can access on their mobile device. While you can take tons of steps like installing antivirus protection, limiting screen time, filtering inappropriate content, and monitoring their usage, there are always going to be things that can slip through the cracks. The best way to keep your child safe is by being their ally. Let them know that you are only there to protect them and keep them safe and that they can come to you with any fears or concerns that come up for them when using TikTok. Remind them that they won't get in trouble for anything they do or become afraid of—you are only there to serve as a support, or to help them get out of a dangerous situation should they encounter one (be that a technological or relational situation.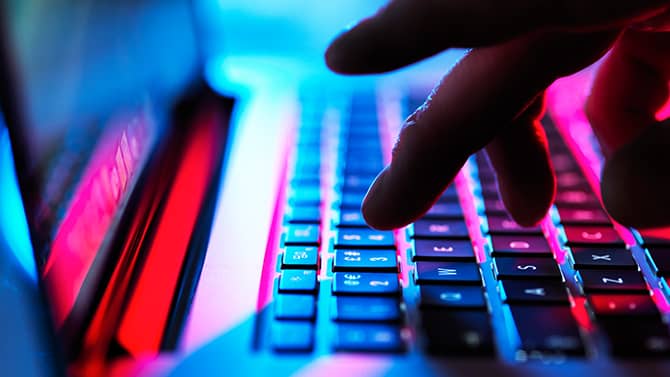 Stay on Top of TikTok Security And Keep Your Data Safe With Kaspersky
If you want to keep your family safe while they are online, whether they are making lighthearted videos on TikTok, doing remote schoolwork, exchanging emails with friends, playing video games, and more, you want to ensure you rely on a robust and trustworthy security solution. For the best security available today, choose products from Kaspersky. Kaspersky has a wide range of security products that can help keep your information and data safe, no matter who's using the computer and which social media apps they're using to connect.
Recommended products
Here are some recommended products that your family can count on for Internet safety:
Further reading
Internet Safety: 20 Tips for TikTok Security
Kaspersky
Using TikTok is fun, but is it safe? Here are the most important TikTok Security tips to keep you and your family safe while you're having fun online.