Online dating scams and how to avoid them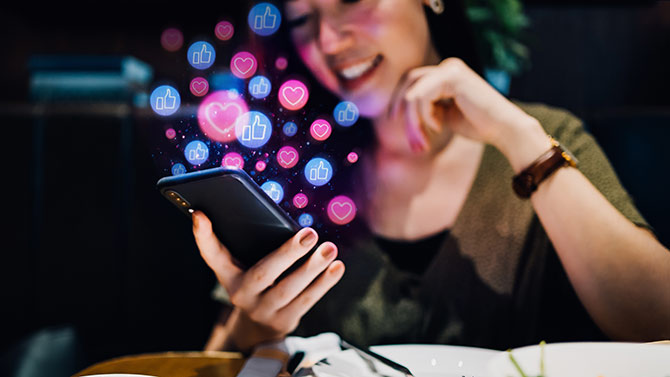 Millions of people around the world use online dating sites and apps. And there are many success stories of people finding love and companionship online. But as well as the successes, there are also online dating scams – and these are on the rise.
Online dating scams – also known as romance scams or romance fraud – take place when someone believes they have made a connection or match through an online dating site or app – but the person they are talking to is, in fact, a scammer using a fake profile. The scammer manipulates or grooms the other person to gain their trust over time – ultimately so they can either ask them for money or obtain enough personal information about them to steal their identity.
This type of crime is on the rise. In 2016, the US Federal Trade Commission received 11,235 complaints about dating and romance scams. By 2020, that figure had risen to 52,593. Losses to online dating scams in the US topped $300 million in 2020. In the UK, the equivalent figure was £68 million. The coronavirus pandemic – which prevented in-person meetings and led to people spending more time online – provided conditions that romance scammers could exploit.
While anyone can fall victim to romance scams, older people often suffer a heavier financial loss. Scammers target older people because they are more likely to have assets such as retirement funds or homes, which they can steal. It is believed that around two-thirds of romance fraud victims are women, with an average age of 50.
Online dating fraud is especially cruel since it plays on people's emotions. This overview explains common online dating scams, the signs of a romance scammer, how to report a dating scammer, and how to protect yourself from online dating fraudsters.
What are the most common online dating scams?
Most dating scams start innocently enough. Scammers may create fake profiles which look as appealing as possible and wait for victims to reach out and begin the conversation. Or they may contact victims themselves, perhaps claiming common interests or a distant, mutual connection. Once a scammer has you hooked, the possibilities are limitless, but here are some of the most well-known variations:
Military romance scams
With military romance scams, fraudsters may use the name and likeness of an actual soldier or create an entirely fake profile. They send out legitimate-seeming messages, perhaps introducing themselves as near the end of their careers, often with older children and typically widowed under tragic circumstances. The messages are riddled with military jargon, titles, and base locations, which sound impressive. They start to build a strong emotional connection, but before physical introductions can occur, the "soldier" is deployed.
Then come requests for money – perhaps to set up a reliable internet connection, pay for flights home or supplement supposed limitations on military medical coverage or retirement planning. In many cases, these scammers work with one or more accomplices who pose as doctors or lawyers to extract a steady stream of money. Military romance scams can drag on for months or even years before victims finally get suspicious.
Military romance scams are so common that the US Army has produced a detailed fact sheet on spotting romance scammers posing as American soldiers posted abroad, which you can read here.
Intimate activity scams
Here, victims are contacted by potential suitors living abroad and "friended" on multiple social media sites. After an intense courtship period, the scammer asks the victim to connect with them via webcam so they can chat. The fraudster's webcam is mysteriously broken, but they heap praise on their victim and, through a combination of flattery and persistence, convince their "partner" to partially undress or perform other intimate acts. The scammer then reveals their true identity. They claim to have made a video recording and threaten to share the video with mutual social media friends or post the recording online unless the victim sends money. Once the victim complies, the cycle begins – demands increase until the victim finally refuses.
Fake dating sites
A slightly different proposition to regular scam websites, scam dating sites are dating services that claim to offer legitimate meetups but are either severely underpopulated or awash with scammers. A popular scam involves sites that ask you to create a profile specifically to mine your information. Look out for sign-up questionnaires that are light on dating details but heavy on questions about finances or ask for information like your mother's maiden name or your first school (i.e. answers to common security questions).
Some free online dating sites may seem legitimate at first but will reveal their true colors once you've been a member for a while. You may receive an offer for a free premium membership or some other exclusive perk in exchange for completing a survey that contains similar questions to those used for banking. You should never reveal any information that can be used to access private or financial details, no matter what incentives you are being offered.
Also, watch out for an influx of attention soon after you've created your profile. If all your profile contains is a few lines of text, no photo, and no set preferences, but you start getting message after message from potential suitors, the chances are you've stumbled across dating site fraud.
Code verification scams
This is one of the common Tinder scams. It involves an email or text asking you to verify your Tinder account. The message may claim that Tinder is updating its records and asking you to verify your account. In other iterations of the scam, an online Tinder match may ask you to verify before engaging in any future communication.
In these examples, the scammer encourages you to click on a third-party link to verify your account. Once you click through, you'll be asked for personal data like your name, address, phone number, email, Social Security number, birth date, and even your bank account or credit card details.
Tinder does include verified accounts, but this is done in-house at Tinder. To get the blue check-mark next to their profile name, users are directed by the app to take a series of selfies, which are then compared to the photos on their profile to check they match. So be very wary of any other means of "verifying".
Malware scams
Malware is a common threat online, including on dating sites. On Tinder, for example, a match may have several exchanges with you and then offer you further information on their personal web page or even fake Facebook or Instagram profiles.
These pages aren't legitimate, however. Instead, you're being directed to a web page that contains malware and spam that can allow scammers to steal your personal data, leading to identity theft and financial fraud. Generally, whenever anyone on an online dating site is keen to direct you to another site, it should be considered a potential red flag.
Photo scams
This is where the scammer encourages the victim to send their contact details in exchange for intimate photos of the scammer. In reality, the scammer is fishing for personal data, or it could even be a fraudulent bot operation that plays on emotion and excitement (through the offer of revealing photos) to gain access to the victim's data – which can then be used for financial fraud.
Inheritance scams
This is when the scammer claims they need to marry to inherit millions of dollars' worth of gold left by a father, uncle, or grandfather. Marriage is, supposedly, a pre-requisite of the male relative's will. A young woman contacts the victim to say she cannot remove the gold from her country since she cannot pay the duty or marriage taxes.
Once the scammer has built up enough of a rapport with their victim, they ask for money to help them bring the gold into the victim's country. The scammer offers to fly to the victim's country to prove they are genuine – so the victim sends money for the flight. Needless to say, the scammer never arrives.
Online dating scam variations
While some of these stories may seem improbable, it's important to remember that those who fall victim are often lonely or vulnerable. Scammers are skilled at playing on emotions and grooming their victims over time. Narratives that often appear in online dating scams include:
The scammer says they need the victim to send them money to pay for flights (or sometimes a passport) to visit the victim's country.
The scammer needs the victim to pay their phone bills or buy a new laptop so they can keep communicating with the victim.
The scammer needs money to pay for medical treatment, either for themselves or a close family member.
The scammer says they have valuables that have been seized by Customs, and they need to pay taxes before they can recover their items and join the victim in their country.
The scammer says their boss has paid them in postal money orders and asks the victim to cash the forged money orders and then wire the money to the scammer. The bank eventually reverts the money cash order but not the wire transfer.
The scammer needs money to complete their education before they can visit the victim.
You often hear the terms catfishing or catfish scams in relation to romance fraud. Catfishing refers to someone creating a fictional persona or identity on a social media or dating site to target a specific victim. Besides financial gain, catfishing motivations can sometimes be simply to cause distress or harm or possibly enable the perpetrator to carry out a fantasy or wish fulfilment. The term derives from a 2010 MTV documentary called Catfish.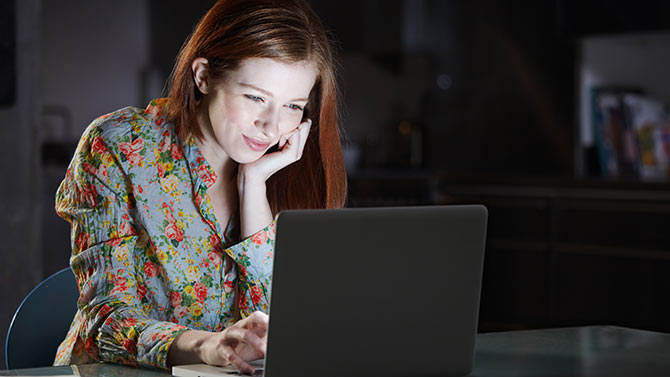 Romance scam warnings signs: What to look out for
Regardless of platform or app – Facebook catfish scams, Instagram dating scams, Plenty of Fish scams, Snapchat meetup scams, and so on – warning signs of online dating scams include:
They try to move you off the dating app or site quickly:
This is because online dating apps often have customer care teams who monitor strange behavior. If they notice a user sending the same message to numerous users, or other unusual activity, they may flag it as suspicious. To avoid this, scammers try to move you to another platform such as WhatsApp or similar. They may use excuses like "My membership is about to expire", "I don't like logging in here every day", or "It's easier to chat on WhatsApp than here".
The discussion turns romantic very quickly.
A common trend in catfish scams is for the imposter to get very serious very quickly. They may bombard you with extravagant compliments and claim to be falling in love with you. Perhaps they claim to have a special bond with you or tell you that you're their soulmate and that they've never felt this way about anyone before. Victims usually report that this shift occurs early on.
The scammer asks you a lot of questions about yourself.
This is because the more they know about you, the easier you will be to manipulate. The scammer will spin a tale about him or herself as well and may invite you to start talking over the phone. This stage can last for weeks, even months.
Their story is inconsistent.
If someone is telling untruths, it can be easy to forget what they have said before. Also, scammers sometimes operate in teams, with different people hiding behind one identity. So, if the person you're talking to seems inconsistent, be suspicious. If parts of their story don't match what they previously said, that could indicate they are lying.
Their profile photo looks like a model.
Catfish scams use attractive profile pictures to keep the victim hooked. Often, these are pictures of actors or models or perhaps even a stock image. If a profile picture looks too good to be true, it's simple to check if the image is real. A reverse image search will show if their profile picture has been used anywhere else on the internet.
They don't have a digital footprint.
Whilst some people don't use social media and try to minimize the amount of personal information about them on the internet, it can be suspicious if you can't find any trace of a person online.
They use borrowed text.
Scammers often don't bother writing their profile text or messages but instead copy them from other websites or dating profiles. To check, you can run suspicious text through an online search to see if any matches come up. If they do, don't message back or respond.
They won't Skype or video call you or meet in person.
They always find a reason why they can't do this. People who are scammed generally report that the other person made constant excuses to avoid going on camera. The obvious reason is that they don't look like the person in their profile picture. They also want to avoid being identified to prevent being tracked down afterwards.
Their life sounds like a soap opera.
A common theme in catfish scams is for the imposters to create elaborate stories involving illness, family tragedies, or major accidents that generate sympathy and help to postpone a face-to-face meeting. If your potential date has a life story that seems unbelievable, it could be a scam.
They live far away.
Fraudsters try to cultivate long-distance relationships because it means they have an excuse not to meet their target. This gives them time to groom their victim and obtain their trust. The stories they tell will include a reason that makes it challenging to meet in person. Or else they arrange to meet up with their target, only to cancel at the last moment.
They ask you for money.
And, of course, the ultimate sign that you're talking to a dating scammer is when they ask you for money. All the grooming and manipulation – which may take weeks or months – is leading up to a request for money. They may give various reasons but, needless to say, your answer should be no.
How to report a dating scammer
If you have fallen victim to an online dating scam, don't be afraid to talk about it. Romance fraud is often under-reported since victims can be too ashamed or embarrassed to tell people once they realize they've been fooled.
Different jurisdictions around the world will have different agencies to which you can report a romance scam – for example:
It's also worth reporting the scam to the relevant online dating site or app. Send the scammer's username and as many relevant details as you can, including conversations and transactions, so the site moderators can take steps to protect anyone else from being targeted.
If you have lost money, you should also contact your bank as soon as possible to explain what has happened.
Online dating safety tips: How to stay safe from online dating fraudsters
Here are 12 tips to avoid the dangers of online dating:
When using social media sites, don't accept friend requests from people you don't know.
Avoid revealing too much personal information in a dating profile or to someone you've chatted with only online. Scammers can exploit details like your last name or place of work to manipulate you or commit identity theft.
Use reputable dating sites and keep communicating through their messaging service. Fraudsters will want you to switch to text, social media or phone quickly, so there is no evidence on the dating site of them asking you for money.
Take things slowly. Ask your potential partner questions and watch out for inconsistencies that might reveal an impostor.
Be wary of overly complimentary messages. Paste the text into a search engine and see whether the same words show up on websites devoted to exposing romance scams.
Don't feel a false sense of safety because you're the one who made first contact. Scammers flood dating apps and websites with fake profiles and wait for victims to come to them.
Avoid sending compromising photos to online strangers that could later be used for extortion.
Cut off contact immediately if you begin to suspect that the individual may be a swindler. Notify the dating site or app on which you met the scammer.
Avoid clicking on links or downloads in user bios or messages sent to you which seem unconnected to the conversation you're having.
If you do agree to meet a prospective partner in person, tell family and friends where you are going and meet in a public place. It is not advisable to travel overseas to meet someone you have never met before.
Never send money or gift cards or disclose your bank details to someone you've only met online.
In general, an important way to stay safe online is by using a comprehensive antivirus solution, such as Kaspersky Total Security, which protects you against hackers, viruses, and malware.
Online dating scams often prey on vulnerable users. However, by understanding common catfishing scams and how to avoid fraudsters, you can bypass romance fraud and forge genuine connections instead.
Related Articles:
Online dating scams and how to avoid them
Kaspersky
Romance scams are on the rise. Learn the signs of a romance scammer, common online dating scams, catfish scams & how to report a dating scammer.