What to Do if Your Identity is Stolen: A Step-By-Step Guide
In 2014, the Consumer Federation of America performed a survey of consumer agencies that pointed to identity theft as the fastest-growing complaint they've received. Despite this issue's prevalence and the damage identity thieves can cause, many people aren't sure what to do when they become a victim of this crime. Follow this step-by-step guide on what to do if your identity is stolen.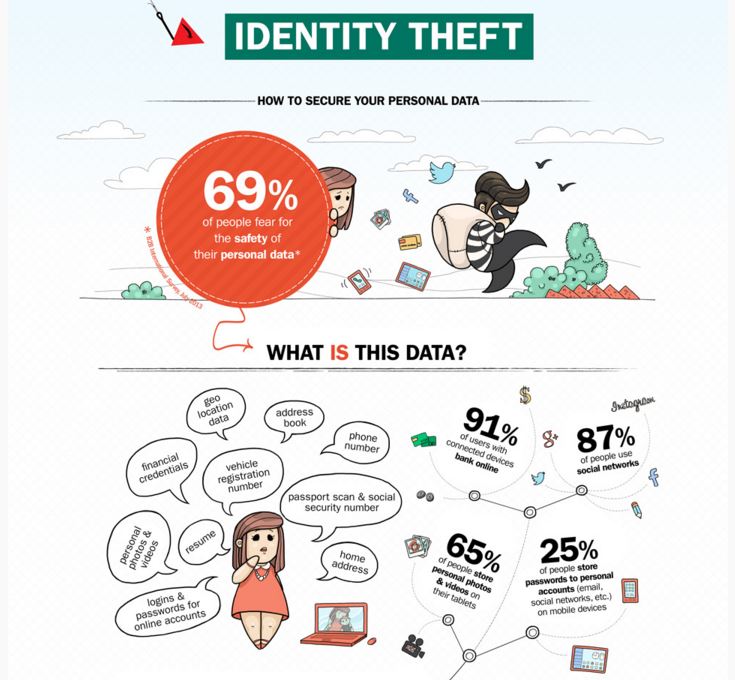 1) Discover the Source
Before you can correct the problem, it's important to know the origin of the attack. While traditional identity theft involved criminals "dumpster diving" to obtain personal information such as receipts or credit card bills, thieves are now targeting popular online services. Banking websites, online retailers and even dating sites hold a wealth of consumer information.

As soon as you realize you've been victimized (e.g., if new credit accounts have been opened in your name, purchases have been made without your consent or your contact information with government agencies has been altered), think about your recent online activity. Did you respond to any emails that appeared to be from financial institutions claiming that your account was suspended or under review? Did you download any video players or media files as attachments from senders you didn't know? Have any e-commerce sites you use on a regular basis recently sustained a cyberattack? Any one of these could create a vulnerability to hacking.

To limit your chance of exposure, ensure that you only ever log into banking websites using a secure connection, don't save your credit card information online and be careful about information you provide to any dating or meet-up sites. Also avoid using linked accounts and similar passwords as to not allow a cybercriminal to daisy chain your information. Running a reliable antivirus solution is also critical, since detecting and removing malicious programs render their threats meaningless.
2) Start Making Calls
Once you've discovered the theft, start making calls. Begin with any companies where fraud occurred, such as your credit card issuer or bank. Ask them to close or freeze your accounts, and change all of your login and password information. Next, contact one of the "big three" credit bureaus:

Ask for a credit report, and have a "fraud alert" placed on your accounts for 90 days. Once you've contacted one of these agencies, they're obligated to inform the other two. Then, report the identity theft to the Federal Trade Commission (FTC) and file a police report with your local law enforcement department.
3) Cover Your Bases
Private companies and government agencies often act quickly to help you back on track after identify theft when it comes to locking down accounts or issuing new identification. But after the initial storm has passed, you may experience long-term consequences of identity theft—your personal data may be used to file fraudulent tax returns during the next calendar year, or even several years down the line. Cybercriminals may leverage your social security number to work in other states or obtain new credit services they never intend to pay back. As a result, you may encounter issues with credit or financing in the future.

Make sure to keep a keen eye on your credit reports beyond 90 days, and always flag anything fraudulent immediately. In some grave situations, you can also apply for a new social security number. Additionally, you should try to limit the amount of credit services you use to reduce the long-term impact of identity theft. With only one or two low-limit cards, any other activity will quickly be flagged as suspicious.
4) Protect Your Future
After criminals have stolen your identity and used it to open fraudulent accounts or make large purchases, you may encounter legal difficulties. Often, defrauded companies will report their losses to private debt collectors, who will call you and your family members looking for the money owed for "your" purchases. In July of 2015, 31 percent of complaints made to the Consumer Financial Protection Bureau were about debt collectors. Many of these collectors are aggressive. The FTC recommends writing a letter explaining your situation and attaching any relevant correspondence, records, police and credit reports.

Some credit card companies and retailers may try to hold you responsible for any charges made in your name if you don't act quickly enough after the fact. As a result, it's a good idea to contact card issuers, banks and other agencies as soon as you notice a theft and keep records of all relevant phone calls, letters and information requests.

In addition to knowing how and when to react, it is important to take preventative measures: Safe Internet surfing habits, solid antivirus and Internet security solutions, effective passwords and limited credit sprawl. And while this all may sound a bit overwhelming, it pays to know what to do if your identity is stolen. The tips above can help mitigate the damage and help you get your life back on track.

Other articles and links related to online scams